About us
2002
In May we (managers Jo Ally and Johan Meysman) started the company MAREM.
The company is based in Lange Ambachtstraat 30 at Oosterzele.
We looked back at 15 years experience of selling earthmoving machinery. Thereafter we specialized in selling used machinery of all marks (such as: Caterpillar, Komatsu, Volvo, Hitachi, Liebherr, Bomag, Hyundai, Case, JCB,…).
We also sell accessories for the machines, both new and used (such as: buckets, hammersn scissors, crushers, grapples,…).
2006
In September a new building was constructed on the current site.
2008
In January the new building was taken into use.
In February we hired our first staff member, a secretary. She helps us with the administration and the commercial tasks within the internal service.
In July we hired our second staff member, a technician. He strengthens our team in service of the machines, small reparations and preparing the machines for the customers.
2014
In April we put our first service vehicle into service.
In June our terrain has been extended from 1500m³ to 3250m³. Wich gives us the opportunity to have more machines in stock.
2016
There is a new workplace of 700m² and a roller bridge of 5 tons put into use in January. A New washingplace with a spray of pit and oil seperation to minimize the impact on the environment. Equipment for the repair and customization for buckets. We have an extra storage place of +/-1000m² for stockmachinery.
From August our team has also been expanded by hiring a 3rd staffmember (a 2nd technician).
After all these years, our company continues to grow!
Johan Meysman
Manager
Our team:
Jo Ally

– Business manager
He is in charge of the purchase and the sale in the regions Flandre Orientale and Flandre Occidentale. He also stands in for a part of the export and helps in the garage if necessary.
break
Johan Meysman

– Business manager
He is in charge of the purchase and the sale in the regions Brabant flamand, Brabant Wallon, Antwerp, Limbourg and Wallonie.
He is in charge of the financial side of the company, the staff and the organisation of training courses. He also gives commercial trainings.
break
Managing Assistant
She stands in for the administration and the commercial tasks. She deals with the documents for transport and export. She also keeps our social media up to date.
break
First Technician
He stands in for small repairs and the maintenance of the machines. He makes the machines ready for sale.
break
Second technician
He also stands in for small repairs and the maintenance of the machines. He makes the machines ready for sale.
break
Our infrastructure
1. The reception
The place where you will be welcomed by our secretary. Here you can ask for more information about us and the machines.
2. The little conference room
This place is used for meetings that don't take too long. It's also a meeting room for the transporters.
3. The big conference room
This room is used for bigger and longer meetings. It's also used for courses. The room is equiped with airco, wifi, telephone, projection screen,…
4. Offices
We have 2 offices available for our customers. Here they can work and decide whether to buy a machine or not. The offices are equiped with airco, PC, wifi and telephone.
5. The outside area
The place where we put our machines for sale and the customers can inspect them and try them out.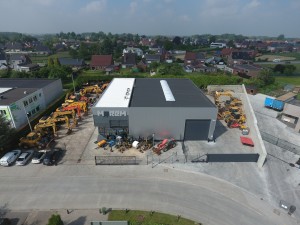 6. Workshop
The place where any repairs and the maintenance are done.
Our motto is:
"Probably the best machine with the best service for the best price"
You can buy used and new machines and also used tools for machines from 1 till 390 Ton. Hopefully we can meet each other at our office and site in Oosterzele Belgium for probably your best business. We buy our machines only in Belgium. We export machines all around the world in more than 68 countries.
Europe: Poland, England, Ireland, Finland, Spain, Hungary, Swiss, Czech, Russia, Sweden, Italy, Croatia, Montenegro, The Netherlands, Germany, France, Norway, Portugal, Austria, Romania, Greece, Georgi, Denmark, Kocovo, Bulgaria, Cyprus, Moldavië, Slovenia, Lithuania, Latvia, Iceland, Bulgaria.
Africa: Maroc, Algerie, Syrie, Egypt, Nigeria, Tanzania, Gabon, Guinee, Ethiopia, Togo, Mali, Comores, Libya, Côte d'Ivoire, Ghana, Madagascar.
Asia: Turkey, Jordany, Dubai, Afghanistan, Singapore, Libanon, Irak, Pakistan, Cambodja, Saudi Arabie, Hong Kong, United Arab Emirates, Sri Lanka, Vietnam, Maleisië, Thailand.
America: USA, Suriname, Canada, Bolivia.